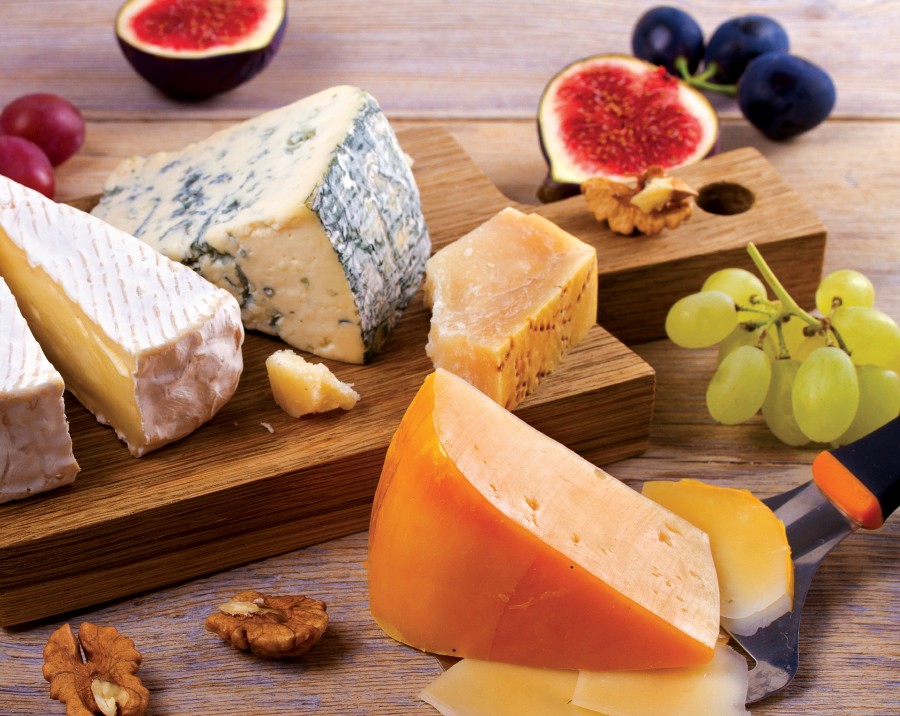 Words/ R.M. Peluso
A simple route to exploring a modern way of casual entertaining with whisky and food
It's your turn to invite the mates over for drinks. You may not be much of a cook and even if you were, you're too busy to prepare a fancy spread. You want to keep it simple. Easy shopping, easy preparation and easy clean up. Your friends know your love of whisky well and they're looking forward to you pouring your favourites. While no formal sit down is expected, you still need to offer something tasty to accompany the whisky. Hors d'ouvres? Too fussy. Tapas? Better. Think tea without the tea. Hearty breads. Cheese. Perhaps nuts and fruits. Of course, for me, the author of two books on the subject, always chocolate! We'll be exploring a modern way of casual entertaining with whisky by choosing highly compatible, satisfying foods that you can simply slice and set out.
Beyond chocolate, I've been researching food pairing with whisky. When opining on any topic, it's always wise to do enough research to avoid reinventing the wheel. So, I've been delighted to discover writer Martine Nouet who is a leader in pairing food and whisky. Ms. Nouet, is a regular contributor to Whisky Magazine UK edition, as well as the former Editor of Whisky Magazine France. Her book A Table: Whisky from Glass to Plate, is, thankfully, available in English. I've been dredging the depths of her work to see what pearls I might harvest. Her insights and basic principles are indeed gems. For example, take her concept of a food bridge. A bridge food uses the texture or flavour of one food to facilitate a favourable interaction between two other foods. The result is an augmented gustatory triad. I admire Ms. Nouet's regard for specificity. The exact brand and expression of a whisky matters when attempting to pair. In my experience, it's the same when attempting to pair chocolate.
Parallel to Ms. Nouet's decades of experimentation and the delicious drudgery of testing by tasting by great chefs, a revolution has been going on in food science. Flavour specialists and molecular gastronomists have been busy deriving formulae for successful pairing. One idea that has shown promise is "molecular rhyming," that is, pairing foods that share molecular compounds. There are websites, such as foodpairing.com, co-founded by Bernard Lahousse, Peter Coucquyt, John Langerbich and IBM's Chef Watson, ibmchefwatson. com. Among several books on the topic is the latest, The Flavour Matrix: The Art and Science of Pairing Common Ingredients to Create Extraordinary Dishes, by James Briscione of New York's Institute of Culinary Education and wife Brooke Parkhurst. Contrary to the use of the word "pairing," the focus is enabling home cooks and chefs who want to combine ingredients to create novel dishes, rather than simple pairings as ends in themselves. Dining versus tastings. As far as whisky is concerned, both foodpairing.com and Chef Watson lead in including broad categories of whisky. But that's also their limitation. They do not list specific brands nor distinguish between their expressions. In fact, their databases are more advanced in descriptions of beer and cheese brands than whisky or chocolate, presented as generic ingredients. Ms. Nouet's recommendation to consider whisky as a spice when using it as a cooking ingredient resonates.
But when it comes to pairing two or three individual items, I'm with Martine Nouet. Pairing is a matter of subtlety and nuance in relation to whisky, and certainly with chocolate, too. Just as the flavour profiles of whisky brands and expressions, chocolate cannot always be reduced to the broad industrial categories of dark, milk and white. Fine chocolate is more than chocolatey; it contains complex aromatic and flavour notes, and those flavour profiles must be considered carefully when pairing. But that won't help you entertain your friends right now. You need well-chosen finger foods that won't clash, and will enhance their whisky experience.
While I have no doubt that someone as meticulous as Ms. Nouet would probably note the exact names of chocolates, cheeses, and other ingredients, as she went about her work, just as she has done for whiskies, I'm sorry to say that some details didn't make it into publication. For that purpose, one simply needs chocolate with a strong spine of earthy roasted "cocoa" flavour to create that "chocolatey" impression.
But it's essential to describe complex flavour profiles when working with artisan or craft chocolate in the context of pairing only two or three items. Here we have the opportunity to tease out and appreciate the full spectrum of flavours and textures available to us. But this need for specificity extends also to cheese, as I'm finding out.
A Gouda aged one to two years is an entirely different animal than a Gouda aged four years.
A raw farm house cheddar that whispers barnyard is a world away from the sublime notes of the Coastal Cheddar of Dorset; and they pair with whisky entirely differently too.
Whisky, chocolate, cheese. When I recommend any of these, I promise to be as specific as possible. Assuming you already have a source for great whisky, all you need now is to locate a reliable cheese monger and a purveyor of fine, craft (artisan) bean to bar chocolate bars. I'm going to suggest something radical: Let's stop thinking of dark chocolate as dessert. You can start with the chocolate, follow with the whisky, move to the cheese, then back to the whisky. If you serve bread, think of it as a comforting backdrop, as one of Ms. Nouet's bridges, or simply places for the palate to restore itself amidst the demands of so many flavours vying for attention. Try bakery-fresh whole grains and unbleached sourdoughs. Cut the bread into wedges. You can wrap it around a piece of chocolate – yes, a chocolate sandwich – or melt a square of dark chocolate and cheese on toast point. Dessert? Seasonal fruits. Slices of ripe pear and avocado. Perfect!